Back in February, T'Challa took over for Daredevil both in title and as defender of Hell's Kitchen in BLACK PANTER: MAN WITHOUT FEAR, but September's issue #523.1 offers up even more changes. In addition to acting as a jumping on point for new readers, the book will also feature a change in subtitle to THE MOST DANGEROUS MAN ALIVE. Written by series writer David Liss with art by Jefte Palo, the Point One issue finds the former king of Wakanda trying to figure out why a mysterious killer has set their sights on people the Panther has saved since his arrival in New York.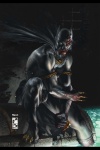 "It's a one issue story, so things are revealed quickly," says Liss. "With that in mind, I'd like to avoid giving too much away. Let's just say that someone out there knows that T'Challa has a pretty muscular sense of responsibility, and killing people the Panther has saved is going to make him very, very angry. Whoever is doing this wants to strike a blow against T'Challa and make him so angry that he's off his game. Who could it be? You'll have to pick up the issue to find out."
In addition to containing an action-packed murder mystery, the issue also acts as an introduction for new readers to Black Panther as a character and specifically his current status as a crime fighter in New York City. 
"I love the idea of issues that are written to be good jumping on points," Liss notes. "There are always books out there that look interesting, but I feel I'd be lost if I tried to catch up now. So, with that in mind, I put into this issue everything I would want as a reader picking up a comic for the first time. You get a sense of who The Black Panther is, how he does his business, what kind of world he operates in, and the kind of people who inhabit that world. You get a sense of his past that will be more meaningful to long-time readers, but it will also serve as a good introduction for new readers."
Throughout his run, Liss has created not only a new MO for T'Challa, but also separated him from his home country to show how the regal warrior stands up when left to his own devices.  
In our first arc we wanted to show that this transition was a struggle for him, that he had to figure out how to adapt to no longer having powers and advanced tech, and he had to adapt to operating in Hell's Kitchen," Liss recaps. "Now he has adapted, and he's in full command. So I'd say right now he's doing very well.
That change in Black Panther finds itself reflected a bit in the title of the book, which shifts from MAN WITHOUT FEAR to THE MOST DANGEROUS MAN IN THE WORLD, a superlative that Liss said T'Challa won't necessarily be advertising, but one that might result in some unwanted attention.
"He will now be both fearless and dangerous, but then again, he always has been," the writer says. "But we now have our very own extra cool subtitle. It's not like he puts that on his business card, but I suppose the word will get out. I don't want to say what we have planned, but it certainly is possible that someone may not like the idea that the Panther is considered the Most Dangerous Man Alive and want to take him out to prove his reputation. Good luck with that."
More on Marvel.com: http://marvel.com/news/story/16053/black_panther_the_most_dangerous_man_alive#ixzz1ObQTivdS
BLACK PANTHER: THE MOST DANGEROUS MAN ALIVE #523.1
Written by DAVID LISS
Penciled by JEFTE PALO
Cover by PATRICK ZIRCHER
Rated T+ …$2.99
ON SALE THIS SEPTEMBER!