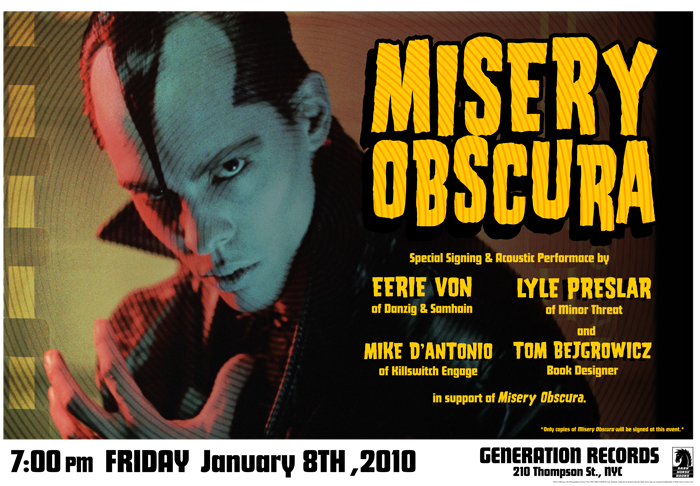 Legendary Punk and Metal Icon Eerie Von To Make Special Appearance in New York On Friday January 8th, 2010, punk legend Eerie Von (Danzig, Samhain) will make a special in-store appearance at New York's Generation Records in support of his new photography book Misery Obscura: The Photography of Eerie Von (1981-2009).
Misery Obscura gives fans unique insight into the punk and metal scene of the 1980's and early 90's from the perspective one of its greatest stars, chronicling the rise of The Misfits, Rosemary's Baby, Danzig, and Samhain through the worldwide success of the punk and metal scene as they tour with acts like Metallica and White Zombie.
Eerie Von will play a rare acoustic performance with Lyle Preslar (Minor Threat) and Mike D'Antonio (Killswitch Engage) during the in-store appearance at Generation Records, and sign copies of Misery Obscura along with designer Tom Bejgrowicz.
The one-night-only event starts at 7:00pm in the West Village. Those wanting to secure their place at the event can pre-order copies of Misery Obscura at generationrecords.com to be guaranteed entrance.